Plan Created: June 1st, 2020
Plan Last Updated: January 16, 2022
Purpose of COVID-19 Safety Plan
This COVID-19 safety plan template has been created by Coast Mountain Brewing to outline the policies and procedures that have been put in place to protect Coast Mountain Brewing employees, guests, and others entering the business from the potential transmission of COVID-19. This plan follows the WorkSafeBC six step process for developing a COVID-19 Safety Plan and aligns with current Provincial Health Officer (PHO) orders and WorkSafeBC requirements.
Responsibilities
Coast Mountain Brewing ownership and management are responsible for the development of this plan including risk assessments, supporting policies, monitoring and adapting the plan and addressing worker concerns. Ownership and management are also responsible for COVID-19 Safety Plan training and communication to their workers before and during their employment.
All Coast Mountain Brewing employees and contractors will follow this safety plan as a condition of employment. All guests must follow this safety plan as a condition of visiting our property.
Employees are responsible for participating in the development, implementation and ongoing sustainment of the COVID-19 Safety Plan. If employees have any concerns regarding this plan they are to bring them to the attention of Laura Mackay, Office Manager.
STEP 1 – Identify the Risks
COVID-19 is an illness caused by a coronavirus. This particular coronavirus was a new virus first recognized in December 2019, originating in Wuhan, China. Coronaviruses are a large family of viruses, some of which infect animals and others that can infect humans. The World Health Organization declared COVID-19 a global pandemic on March 11, 2020.
Symptoms of the illness are similar to other respiratory illnesses including the common cold and influenza. In some cases, COVID-19 symptoms may appear to be mild but can worsen within a few days and become fatal. With research from the various variants, the related symptoms listed below are most likely related to COVID-19 than other respiratory illnesses.
Key Symptoms may include:
Fever and/or chills
Cough
Loss of sense of smell or taste
Difficulty breathing
Other Symptoms may include:
Sore throat
Loss of appetite
Headache and/or body aches
Nausea and/or vomiting
Diarrhea
The virus, amoung other respiratory infections, generally spreads from person to person through liquid droplets when a person speaks, coughs or sneezes. Droplets can either be larger and heavier, falling to the ground within two metres, or smaller aerosols which are more airbourne and float in the air for longer periods of time and distance. Though COVID-19 can survive on different surfaces for hours or days, the transmission rates from contact with contaminated surfaces appears to be low yet should be mitigated anyway. The risk of transmission increases the closer you come to other people, the more people you come into contact with, and the length of time you spend with other people. This is why it is critical to control these interactions in the workplace, to help reduce the transmission of COVID-19.
The following indoor areas have been identified as areas where employees and/or guests may gather or have considerable interaction:
Taphouse, Brewery, Office.
The following indoor tasks bring our employees close to one another or to guests:
Serving drinks, collecting glassware, brewing and packaging, cleaning, meetings in the office, delivering product
The following tools, machinery and equipment have been identified as items that employees and/or guests share:
Brewing equipment, forklift, office equipment, fridge, taphandles POS ipad and credit card machines.
The following items have been identified as high touch surfaces:
POS Ipad, credit card machine, fridge, door handles, tap handles
STEP 2 – Control the Risks
The main aim is to reduce the risk of the virus spreading through droplets in the air as well as being transmitted via workplace surfaces. Therefore, any controls that are adopted should always reflect that. Different controls will offer varying levels of protection and the preferred option is always the control that offers the highest level of protection. This approach to controlling risks is referred to as the "hierarchy of controls". This process involves assessing the likelihood of harm or injury associated with different hazards (something with the potential to cause harm or injury) which together formulate the risk.
In some cases, it may be necessary to combine different levels of protection in order to control one particular risk. An example of this, in relation to managing the risk of COVID-19 transmission, is to install barriers to separate people (engineering control) and to wear a mask (personal protective equipment).
Types of risk controls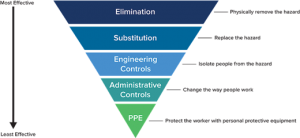 Elimination or Substitution are the highest, most effective levels of control and involve removing the risk of exposure to a given hazard entirely, or substituting a hazard for something that is less harmful.
We have implemented the following controls to limit the number of people in our workplace and to ensure physical distancing:
The maximum number of guests allowable INSIDE the premises at any given time will be 14. The maximum number of guests allowable OUTSIDE on our patio at any given time will be 39.
We are maintaining physical distancing IN OUR ESTABLISHMENT by:
Staying at home when exhibiting symptoms of illness
Working remotely wherever possible
Creating a plexiglass partition between our staff and customers
Creating separate areas for dine-in customers and pick-up customers
Having guests wait outside for a table
Having guests seat themselves
Not allowing groups of more than six people to be sat together
We are maintaining physical distancing during SELF-SERVICE by:
Ensuring there are at least two metres between customers while waiting in line to purchase to-go/draught
Ensuring there are at least two metres between customers seated on our patio, unless they are from the same party
Ensuring there are two metres between customers seated at tables or bars and counters, unless there is a physical barrier or they are from the same party
We are maintaining physical distancing in the BREWERY/ON DELIVERIES by:
Wherever possible, ensuring employees remain two metres apart
Restricting access to brewery areas for delivery agents, members of the public, and other staff who are not brewery employees
Engineering controls include placing physical barriers between people when physical distancing cannot be maintained and ensuring adequate ventilation and air circulation within buildings.
We have installed barriers in the following areas:
Plexiglass between customers and bartenders
Plexiglass between tables
We have addressed ventilation and air circulation in the following areas:
Taphouse, Brewery, Office
Administrative controls include the rules, training, guidelines and signage you have put in place to educate people on how to control the spread of COVID-19 in the workplace.
We have put the following administrative controls in place:
We have implemented the following additional administrative controls IN OUR ESTABLISHMENT:
Our staff sick policy supports workers to stay at home if symptomatic
We have provided worker training and orientation on COVID-19 safety protocols
We have provided workers with medical resource information that includes telephone numbers and website addresses for key medical, mental health and bullying resources, with approved COVID-19 information
All workers are encouraged to be involved in monitoring our Safety Plan and ensuring its execution in accordance with aforementioned policies and procedures
We are posting our key COVID-19 protocols to our website and social media channels
We have the following administrative controls for SELF SERVICE:
Serving guests at our designated ordering points and having them take their items to their seats
Decreasing bartender contact with dirty glassware by providing bus bins and asking guests to clear their own glassware when possible
Providing hand sanitizer and asking all guests to sanitize their hands upon entry into the taphouse
We have the following administrative controls for the BREWERY:
Established a system to minimize sharing of other communal equipment and small tools
We have implemented the following administrative controls to ensure enhanced CLEANING, DISINFECTING AND PROPER HYGIENE practices throughout the establishment:
Established hand washing/sanitizing procedures for all staff
Handwashing signage is provided near all sinks
Increased cleaning between table seating's
Clarified procedures for cleaning staff areas and training employees accordingly
Cleaning bathrooms on a more frequent basis
Enhanced cleaning of all frequent touchpoints in common areas; Tables, Chairs, Door handles, Credit Card Machine, POS Ipad, Tap Handles
Incorporating additional regular and end-of-shift cleaning and disinfection for all shared spaces and surfaces in public serving zones

Personal Protective Equipment (PPE): This is the least effective option in terms of protection and should be considered if the higher levels of protection don't allow you to adequately control the risk. PPE should be used in addition to other control measures and not in isolation.
We have put the following PPE controls in place:
Face coverings are mandatory for everyone in many public indoor settings: Taphouse area until seated. We provide disposable masks for guests to use.
Face coverings are required for all workers when working in staff common areas within buildings and when riding in company vehicles with others: Brewery, Delivery Van, Office.
We have disposable gloves available for staff to use if they wish
STEP 3 – Develop Policies and Procedures
Clear policies and procedures help to ensure that the identified controls are being followed within the workplace and establish the minimum requirements. They may include arrangements for who can and cannot be at the workplace, how to deal with illness in the workplace, cleaning and personal hygiene protocols, first aid provision, and managing potential violence in the workplace.
Healthy Workers Policy  
Coast Mountain Brewing supports all employees only reporting to onsite work if they are in good health and not experiencing any communicable disease symptoms. Employees must always follow guidance from Public Health regarding needs for self-isolation and self-monitoring. Topics to consider when assessing oneself for on-site work include having symptoms of COVID-19 or any other communicable disease, if you are a close contact of someone with COVID-19 and you are not fully vaccinated, as well as if you have traveled outside Canada within the last 14 days and you are not fully vaccinated.
Anyone displaying any of the symptoms listed earlier in this Safety Plan must not attend the workplace and is encouraged to partake in the BC COVID-19 Self-Assessment Tool online and/or call HealthLinkBC at 8-1-1 for further direction from Public Health.
Any worker that receives a positive COVID-19 test result will not be allowed to return to the workplace until the following conditions are met:
Fully Vaccinated: at least 5 days have passed when symptoms first started (or from the test date if asymptomatic). Face coverings should be warn even where masks aren't required and avoid high risk environments such as gatherings for an additional 5 days past the end of isolation.
Not Fully Vaccinated: at least 10 days have passed when symptoms first started (or from the test date if asymptomatic).
No sign of fever for at least 24 hours without the use of medication that reduces fever symptoms.
Symptoms have improved.
When the conditions listed above are met, individuals are not considered contageious and may return to the workplace. Though able to return, recovery from the illness may take up to two weeks for mild cases and twelve weeks for severe symptoms.
If any worker becomes ill at the worksite, they are to don a mask and report to their supervisor. The employee will be isolated from the other employees on the worksite and arrangements will be made for them to go home whether that be by them driving themselves home, a company delegate driving them home in a company vehicle (with extra precautions and cleaning) or a member of their household transporting them home. Remember to follow community guidelines for the use of transit and ride share companies.
Physical Distancing
Physical distancing includes limiting close contact with other people. This can be achieved by limiting ones interations with others all together and providing extra space (2 metres) with other who you cannot avoid all together. Sometimes, 2 metres will not be practicable which is where engineering controls such as barriers must be used and non-face-to-face interaction is encourage (i.e. phone calls or emails). To encourage physical distancing we use:
Floor decals and signage to facilitate the flow of people at order stations and in lineups.
Floor decals and lines on the floor to ensure distance at the front door is maintained while guests are waiting in line to order and while staff move throughout the taphouse.
Restricting access to brewery areas for delivery agents, members of the public, and other staff who are not brewery employees
 Hand Washing
Regular hand washing is an important step in controlling the spread of COVID-19 in the workplace.  Coast Mountain Brewing employees must wash their hands when they arrive at the workplace, before and after breaks, after coughing, sneezing or touching the face, after using the washroom and before leaving work. Soap and water are preferred, but hand sanitizer with atleast a 70% alcohol base can be used when soap and water is unavailable, or as an additional control.
Cleaning and Disinfection
The cleaning and disinfection of the workplace including high-contact surfaces in restricted and guest-facing work environments is an important part of keeping the workplace safe from COVID-19 transmission. Cleaning and disinfection are often referred to as a "two-stage" process. Cleaning removes visible surface dirt and debris, whereas disinfection destroys bacteria and viruses.
First Aid
All Coast Mountain Brewing first aid attendants must follow the WorkSafeBC Occupational First Aid Attendants (OFAA) guidelines when responding to a first aid emergency in the workplace.
STEP 4 – Communication and Training
Everyone within the workplace must understand how to keep themselves and others safe. Training includes the need to stay at home when sick, understanding occupancy limits, hand washing procedures, how to wear a face covering properly, who is permitted to enter the workplace, and how workers can provide feedback. Supervisors are trained on how to monitor workers to ensure that policies and procedures are being followed. Our COVID-19 Safety Plan is communicated to our workers by providing a copy of the plan to them, reviewing it with them, posting a copy in our workplace as well as posting it somewhere visible on your company's website (for staff and public to view).
STEP 5 – Updating the COVID-19 Safety Plan and Monitoring the Workplace
Laura Mackay, Office Manager is responsible for reviewing and updating this COVID-19 Safety Plan whenever Provincial Health Officer orders, other government requirements and WorkSafeBC protocols change.
STEP 6 – Ensuring Ongoing Training and Monitoring
Training on this COVID-19 Safety Plan will be included when bringing back employees following a period of absence as well as distributed to current employees.
This Safety Plan will be reviewed and revised, as required, to reflect any:
Changes to job scope which may affect the plan,
New areas of concern or the identification of something that isn't working,
Health and safety concerns raised through a worker representative or joint health and safety committee,
Changes to Provincial Health Officer orders or other government and industry requirements that affect the plan.